HINDI LANGUAGE SCHOOL IN JAIPUR, INDIA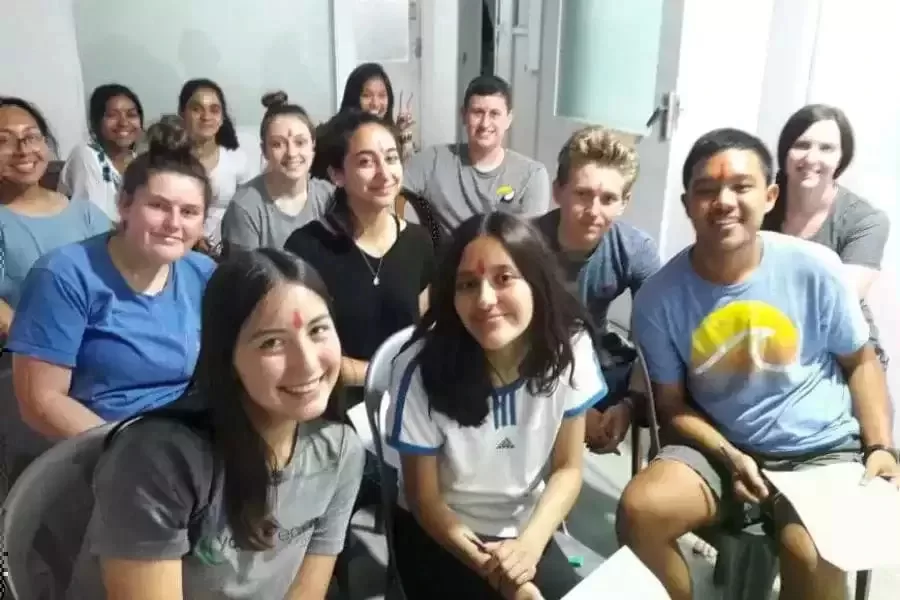 "Learn Hindi In India With Native And Professional Teachers"
Indian lingua is a Hindi language School in Jaipur, INDIA, which conducts a variety of Hindi programs for foreigners such as: two-hour survival Hindi course, three-week intensive Hindi program, Hindi immersion program, etc. to the appropriate level of your Hindi fluency. Whether you want to learn Hindi just for traveling, for immersing yourself into the culture, or for studying in Indian universities, we have a program to meet your needs and interests. We also conduct Hindi lessons online by Skype/Zoom to help you continue to practice with experienced Hindi teachers.
Our experienced teachers not only teach their students Hindi but also help them explore our culture, lifestyle, food and music of India through their weekend workshops.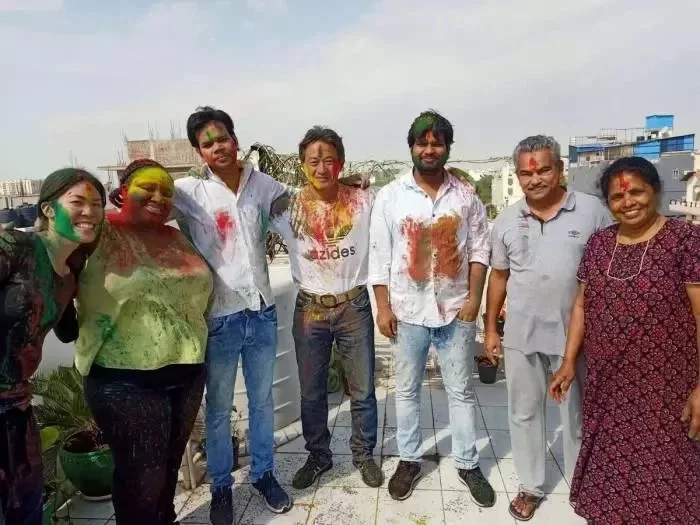 Hindi immersion program is the best program to immerse yourself deeply into the culture so as to explore Indian people's way of life while learning Hindi in India. Students attending the Hindi immersion program are hosted by a local family in Jaipur. Our Indian host families are very friendly and on your visit, they always make sure that you feel at home. All of host families speak Hindi and English so that you can enjoy a conversation with them while drinking warm masala tea.
Course duration – 2weeks/3weeks/4weeks
2 week program – 34 hours (3 hours every day Monday to Friday) plus 2 hours workshop every weekend(total 34 hours)
Class place – Classes are conducted at Indian Lingua school
Course price – 35000 rs/ student(classes and study material only)
Course availability – Throughout the year
Three week intensive Hindi program is a very comprehensive course thoughtfully designed to teach the maximum amount of Hindi in a very short period of time. This program is suitable for those who want to learn maximum Hindi in a very short period of time available to them. Our Super-Intensive course consists of 5 Intensive classes every week and at the weekend there will be a 2 hours workshop. The Hindi workshop allows the students to practice speaking Hindi with a different topic each weekend and covers topics such as travel, shopping, Indian culture, leisure activities and explores Jaipur.
Course duration  – 2weeks/3weeks/4weeks
2 week program  – 34 hours (3 hours every day Monday to Friday)  plus 2 hours workshop every weekend(total 34 hours)
Class place – Classes are conducted at Indian Lingua school
Course price  – 35000 rupees per student (this price includes charges for classes and study material only)
Course availability –   Throughout the year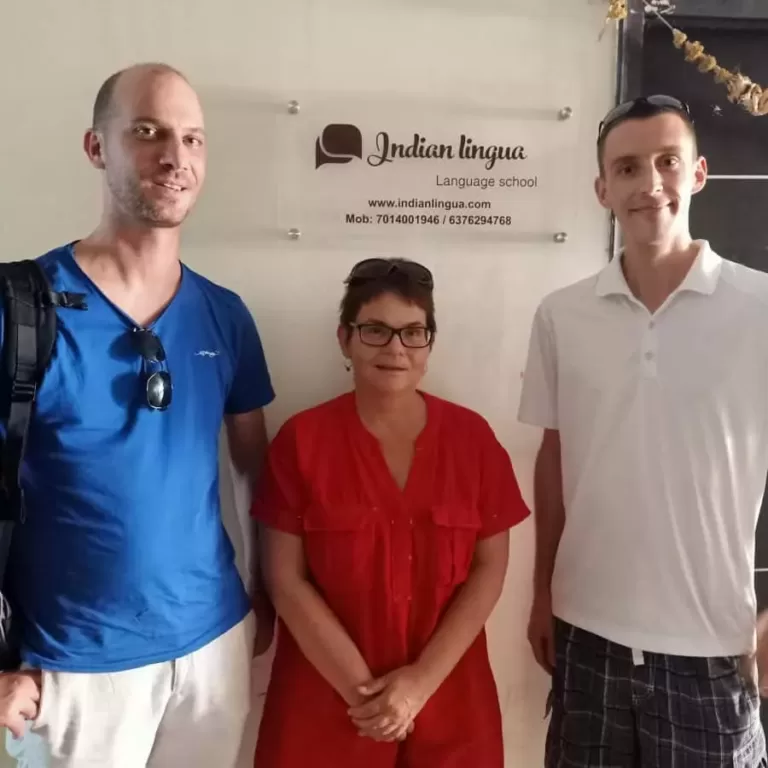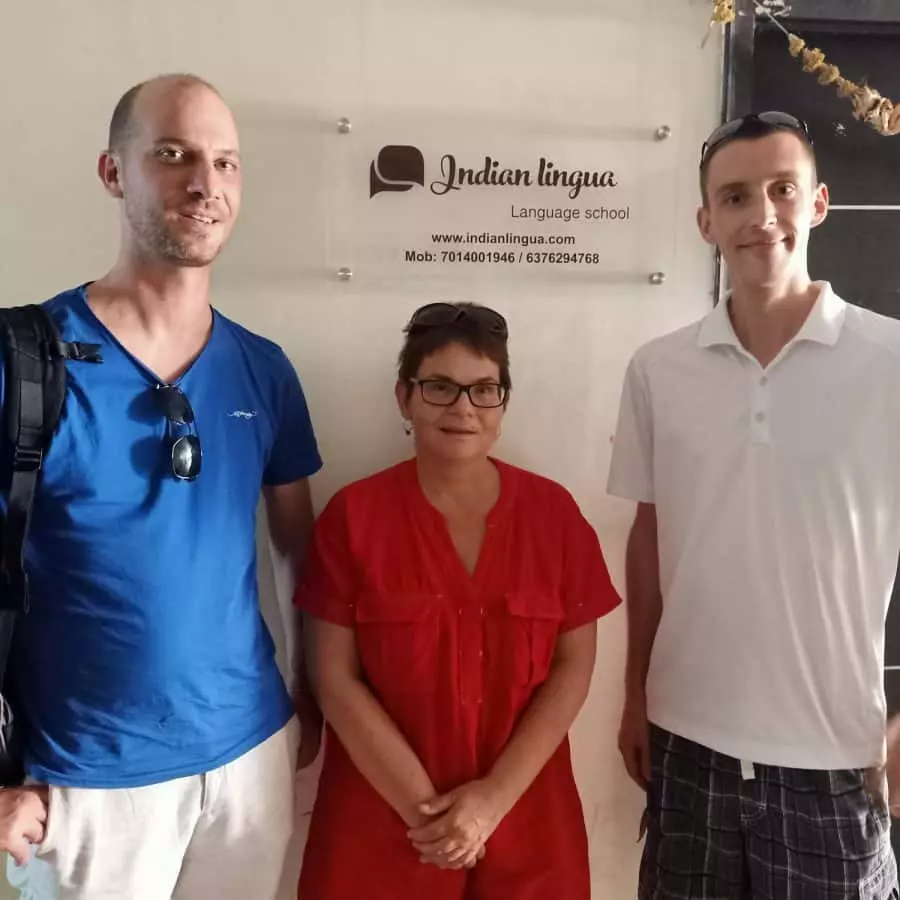 Skype Hindi lessons are the best solution for students who want to learn online. Lessons through Skype are constructed to ensure that the student can learn the maximum amount of Hindi in virtual classroom. Everyone has different goals for wanting to learn the Hindi language so we offer a variety of course options to fit your needs. If you don't see something that works for you, don't hesitate to contact us so we can develop a custom course plan tailored to meet your schedule and goals
Raluca Cojocaru
2020-06-12
I've been taking Hindi classes with Rishi for over a month and a half now. Over the years I had several teachers on 2 continents: in school and high school in Romania where originally I am from, in a British university where I've done my bachelor degree and finally in the US where I currently live. Out of all the ones that guided me in the past, Rishi stands out in particular by his teaching methods and approach to a foreign language that is difficult for Westerners. He is easy to go with, has a good sense of humor, is honest, patient and supportive. His willingness to help, explain, correct and guide you even outside your regularly scheduled class makes him a great asset. When I started to study Hindi all I knew was 'namaste' and 'shanti'. Now I can make sentences and I start recognizing words in a conversation. Therefore I highly recommend you to study with Rishi. I'm sure you'll like it and won't regret.
Vanessa Martin
2020-05-04
I've been taking Hindi online with Rishi for a while now. He seems to have unlimited patience! I know I'm not an easy person to teach but Rishi always encourages me in the right ways. I'm planning to take one of his intensive in-person courses when I can get back to India. Highly recommend!
I just completed a week long Hindi coarse with Indian Lingua and I can't reccoment them highly enough. Rishi and Mukesh were great teachers, as we're our hosts at the homestay. The sightseeing excursions during our down time to the local historic sights were wonderful. I cannot reccomend doing a class with them highly enough!
Charlotte Volpe
2020-03-19
I took private Hindi lessons with Mukesh in Jaipur while I was a student here on another study abroad program for Hindi learning. I found Mukesh's lessons to be extremely relevant and helpful in making my Hindi more natural-sounding and advanced. Mukesh's lesson plans are explained very intuitively and helped me improve my weak spots in my Hindi. I highly recommend this school!
Garen Checkley
2019-12-27
Bahot achii class experience hai. Highly recommend for any level.
Great atmosphere and fun classes! Best immersion experience I have ever had. I have been to Indian Lingua School for four weeks during November/December and I really enjoyed it. I have noticed my progress continue to grow steadily over the weeks. Now, I feel like I have enough Hindi to get by on my own and develop my skill independently. Understanding street chit-chat is becoming easier, watching Hindi T.V. is becoming more enjoyable, and I can usually interpret written texts. The teachers at Indian Lingua are young, fun and competent people. Rather than forcing us to fill out boring and repetitive exercise sheets, they make learning more enjoyable by providing innovative activities and games to keep the classroom engaged. Indian Lingua has their own course materials which is very interactive and is highly effective for students of all levels. The timetable is constantly rotating, so we can benefit from various styles and techniques of each teacher. The school also organised some insightful trips in the afternoons to improve our knowledge of the "culture" I made some life-long friends during my short stay thanks to Indian Lingua. I'm sad to be leaving, but hope to come back soon! I highly recommend this school to anyone considering improving their Hindi - you won't regret it!
I was in search of learning Hindi and Punjabi to communicate with my partners family. Last year, I bought 10 online classes with Mukesh, and took them 2-3 times a week. This year I doubled the classes. Not only is he highly educated (studied Hindi literature) and intelligent, he is patient with foreign speakers. His course material has a methodological approach AND he offers time out of class to help us. Too bad I don't have the luxury of going to his classes as I am halfway across the globe. Make sure you put aside time to do his homework!
Mukesh is a fantastic teacher who encourages a fun, interactive and natural learning process. He is very knowledgeable with language being a native Hindi speaker and professional teacher, and will get you speaking Hindi faster than you can say samosa chaat! I've had many lessons with him and intend to keep learning with his help. He's also flexible with my schedule which I really appreciate. Highly recommended!
Mukesh is a wonderful teacher. I love being able to do my classes every week at the same time as my husband so we can work on the same things together. Mukesh makes every lesson interesting, challenging (in a good way) and also lots of fun. I would recommend his services to anyone! 🙂
Mukesh is an excellent English teacher. I really enjoy the class with him, he helps me a lot. I got a really good improvement from his course. I highly recommended his course and his website.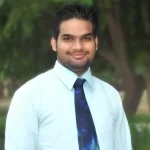 Mukesh is an experienced, skilled, dedicated, and personable teacher who has a master's degree in Hindi literature and linguistics and has already trained more than 1000 students. Mukesh is one of the teachers who developed a scientific and structured course called fast track to Hindi fluency. His lessons, are structured and have clear learning objectives he is able to tailor them with ease to suit the specific needs of the student.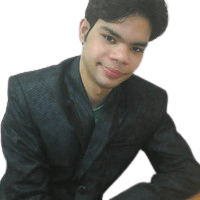 Rishi is a driven, organized and passionate teacher of the Hindi language. His love and passion for the Hindi language is obvious. This makes him a dedicated teacher who not only is able to give a student the grammatical grounding in the language, but also gives the cultural grounding of the Hindi language and therefore imparts to the student a deeper understanding of the Hindi language.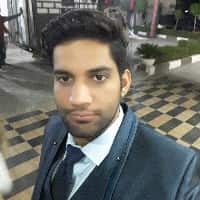 Mridul is an experienced and friendly and easy going  teacher who has a master's degree in Hindi literature and linguistics and has already taught  more than 500 students. Mridul is very passionate about helping his students reach their language learning goals. He brings an excellent ability to teach as a native speaker yet understand the challenges of learning Hindi as a second language.
WhatsApp
Our Number is +91 63 7629 4768 
Our Number is +91 70 1400 1946
Call Us
 +91 7014001946
+91 6376294768
Get a quote
Do you want to quote your Hindi program? Do it online now!