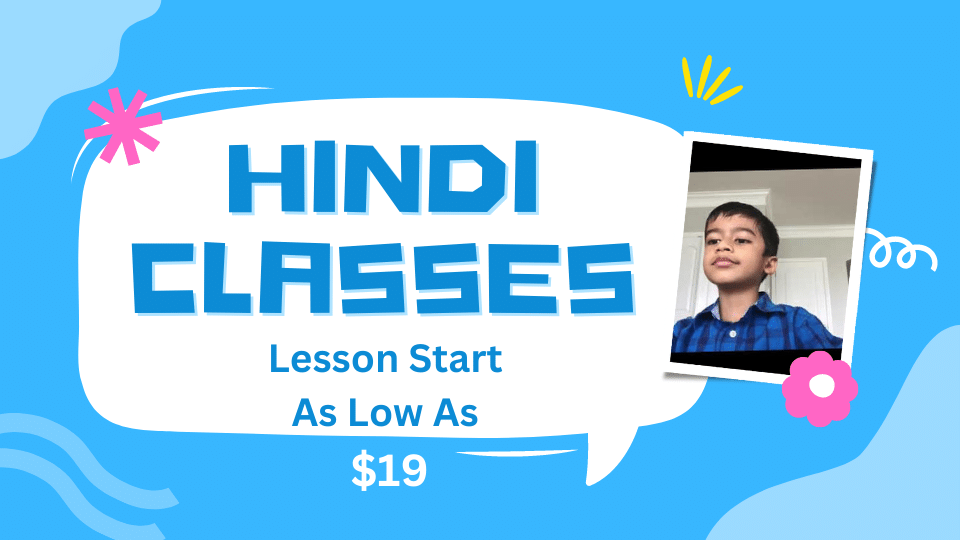 HINDI LESSONS FOR
CHILDREN
Indian Lingua Online Hindi Classes For Kids combine fun, interactive activities and immersive learning techniques. Our goal is to make learning Hindi fun, while also making sure the lessons provide a foundational understanding of the language.
Indian lingua's Online Hindi lessons for children are conducted by certified teachers who have at least a master degree in the Hindi language or equal to. This program is highly structured, proven and scientific where teachers use a presentation and all advanced tools, such as a white board and all, to make the classes more interactive and fun. Indian lingua has created a visual based systematic program of instruction that has proven to be highly effective for students of all levels. Indian lingua's Method is a fast and effective system for learning Hindi. It consists of four levels (or "stages" Hindi Conversational Course – (A1, A2, A3, AND B1, B2 ,C1, C2) and caters to all levels of learning, from total beginner to advanced. Clay Patrick Bedford once said: "You can teach a student a lesson for a day; but if you can teach him to learn by creating curiosity, he will continue the learning process as long as he lives". Indian lingua believes that it's work and teaching style creates a lasting curiosity in the Hindi language and Indian culture that will remain with them throughout their lives. Many students have travelled to India following their Indian lingua's classes.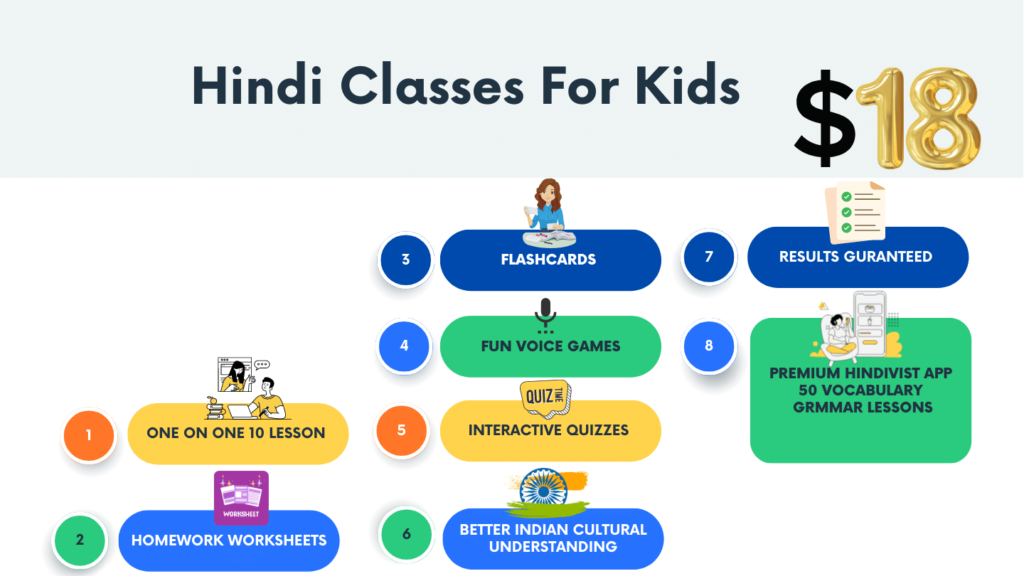 One on One 10 Lesson Package ($180)
Complete Hindi Package
One on One 10 Lesson Package ($180)
Hindi Lesson Package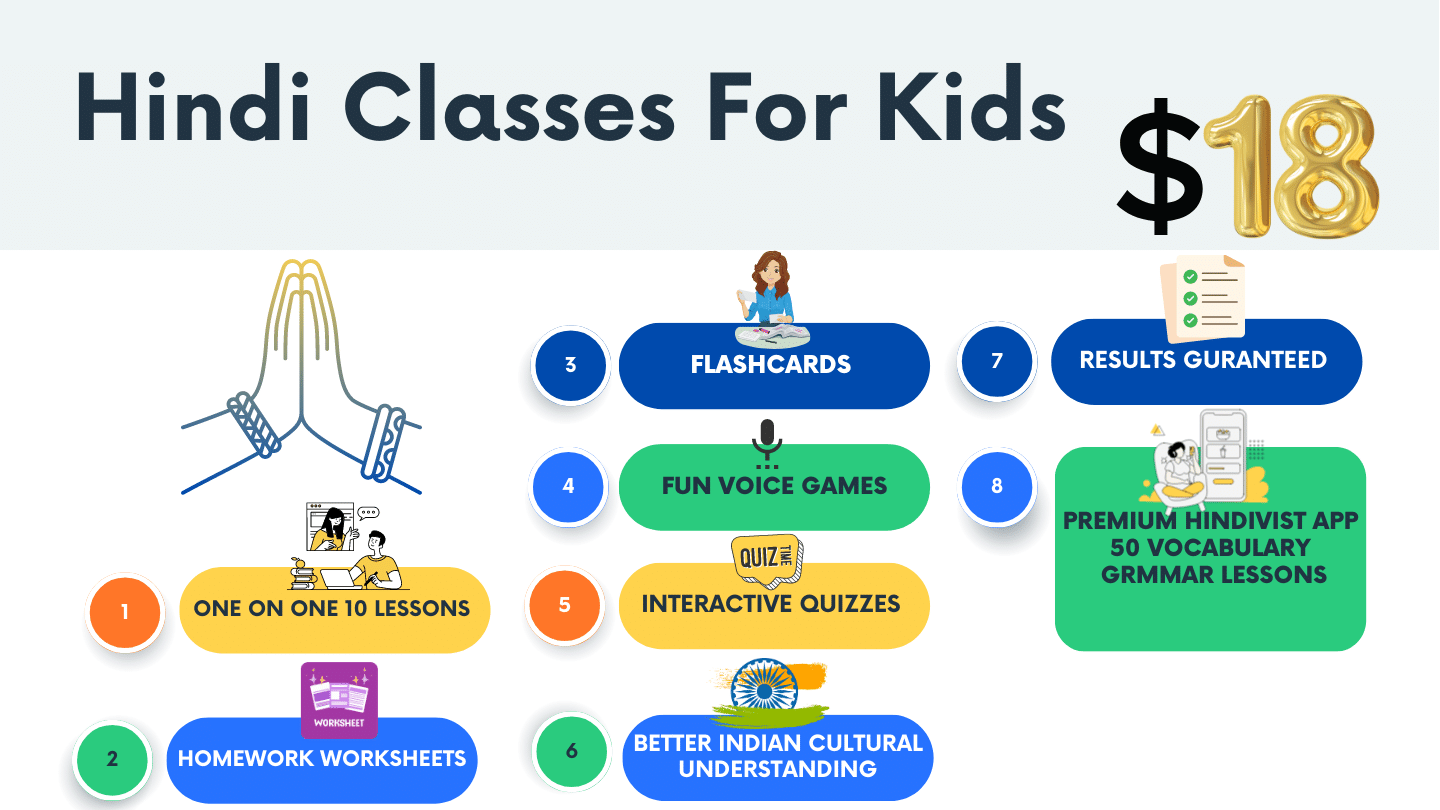 Why Learn With Indian Lingua?
A proven, highly structured, and scientific method that can be customized to your needs, and will give you confidence and skills to speak Hindi right away.
Become a fluent Hindi Speaker in just three months. Spend less time on study, and more time on what matters to you most.
Combing Hindi Language learning and cultural understanding, we provide the closest experience so that students can completely immerse themselves in Indian culture, and speak Hindi confidently.
No matter your Hindi learning style, and method, we will build a customized Hindi program to meet your needs and requirements according to your current level.

I have worked with Rishi for a few lessons now, and have worked with other teachers before. Rishi is hands down the best teacher I've found. The reason I say this is that he understands Hindi grammar very well and is very good at explaining Hindi grammar to his students, which not all teachers are able to do. Hindi grammar is difficult and very different than English grammar, but getting it right is very important to being able to speak the language fluently and without mistakes. Rishi also has a very structured set of materials that he uses to explain grammar and vocabulary. These materials are well constructed, visually pleasing, and instructive. I'll keep working with Rishi until I'm fluent!
Akash
Businessman

Mukesh is able to balance STRUCTURED teaching with the FLEXIBILITY of unstructured discussion, trying different methods and activities, and fielding lots of random topics and questions. He's able to clearly and quickly explain the fundamentals of a concept and then help you dive straight into practicing with at slowly increasing levels of difficulty. Mukesh also treats his students as individuals, remembering their progress and building discussions, homework, and lesson plans around previous experience and what needs to be worked on. Lastly, he's always patient, optimistic, prepared, and communicative. All of these are why I've chosen to stick with Mukesh as opposed to the other teachers
Garen
Google Developer

I took private Hindi lessons with Mukesh in Jaipur while I was a student here on another study abroad program for Hindi learning. I found Mukesh's lessons to be extremely relevant and helpful in making my Hindi more natural-sounding and advanced. Mukesh's lesson plans are explained very intuitively and helped me improve my weak spots in my Hindi. I highly recommend this school!
Charlotte Volpe
Student

Mukesh is a fantastic teacher who encourages a fun, interactive and natural learning process. He is very knowledgeable with language being a native Hindi speaker and professional teacher, and will get you speaking Hindi faster than you can say samosa chaat! I've had many lessons with him and intend to keep learning with his help. He's also flexible with my schedule which I really appreciate. Highly recommended!
Mitch Taylor
Engineer

Been learning Hindi with Rishi for getting closer to a year now and one of the best decisions I have made. My Hindi has improved so much under the guidance and direction of Rishi. He makes every class fun and I don't feel awkward when I make mistakes with him. He has all his own course material and sends you things to work on by yourself. Rishi's course is really the complete package because its not just lessons. He suggests movies and tv shows. He has his own hindi speaking group on whatsapp to communicate with other students and is happy to answer questions. I will continue to work his Rishi and my skills will just keep getting better and better!
Wyatt Goldie
Electrician

From a rich experience with Hindi classes, I can say with conviction that they are the best in India. Excellent teachers. Knowledgeable, experienced, punctual, polite, supportive and personable. Encompassing study materials.
Saidja Drentje

I started speaking from the very first trial course. This is what language learning is all about. Mukesh is very patient and willing to help. He correct when necessary and encourages as well. He has his teaching style and I am willing to learn with him to fluency.
Smart
Student

Mukesh is very well prepared, has good material and is very helpful. I like his teaching method with the remote screen share. He has a very flexible schedule and is also flexible with the material if I have any wishes. Thanks to him I made a lot of progress already. Thank you!
Erich Schmidt
Engineer

Mridul – a very good Hindi Teacher!
Mridul has been teaching our 6 yrs old son since the past 1 month and we are so proud to say that our son who is not a native Hindi speaker and learning the language from scratch is picking up so well. The best part about the curriculum that we love is that Mridul tailors the classes according to my sons grasping level and takes him step by step along with the grammar. A very good strategy, this was exactly what we were looking for! As he teaches the grammar so well my son commits less errors while forming simple sentences. We are happy about the classes and will continue with him until our son can speak and read Hindi fluently. Our son loves his lessons and enjoys them very much as well. Thank you Mridul and thank you Indian Lingua for giving us this wonderful platform.
Om's Mom
Blogger
Rishi – Amazing tutor!
Rishi is an extraordinary tutor! In just 4 weeks, I am now able to slowly read and write in Hindi and am making great progress. For a very long time, I've always wanted to learn my mother tongue. Originally I was born in Fiji and moved to New Zealand at the age of 3. I am now 15 and have lived here for 12 years of my life. Never did I think that I'd learn the beautiful language of Hindi. I am very proud of myself and I am very grateful to have Rishi as my tutor!
Krishay Lal
High School Student
Fantastic Hindi Lessons!
Rishi is a great Hindi teacher. He tailors the lessons to what you want to learn and gives lots of practice sentences in the lesson to help you understand how to use new grammar. He is very good at explaining difficult grammar concepts and so I feel like I have learnt a wide range of grammar structures in a short space of time!
Nitya Ramanad
Collage Stduent
✓ Become familiar with the basic Hindi structures
✓ Give the student a model by which they can continue to expand their vocab & sentence
✓ Provide the student with methods and techniques by which
✓ They can continue to improve pronunciation and confidence
✓ Classes tailored to your individual needs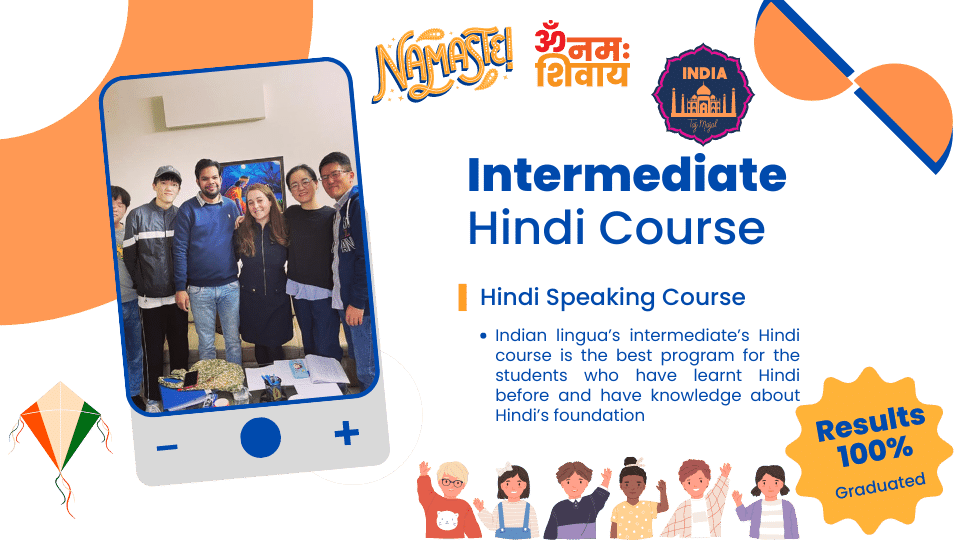 Intermediate's Hindi course
✓ Course is designed for intermediate and advanced Learners
✓ Give the student a model by which they can continue to expand their vocab & sentence
✓ Communicate thoughts in a grammatically precise manner
✓ Students will also have the tools to understand Most of the grammar choices of native Hindi speakers
✓ Classes tailored to your individual needs
✓ Advanced Hindi course is designed to fulfill the advanced communication needs of those who wish to communicate in an Hindi speaking environment. 
✓ Since it is a communication/advanced course, its goal is to give the user advanced structures along with a sufficient amount of vocabulary to be used to communicate with Hindi speakers and in certain situations that the user will encounter when (s)he is traveling in India.
✓ The Student will be able to express more abstract and complex ideas.
✓ Give the student a model by which they can continue to expand their vocabulary and sentence construction
✓ Provide the student with methods and techniques by which they can continue to improve their pronunciation and confidence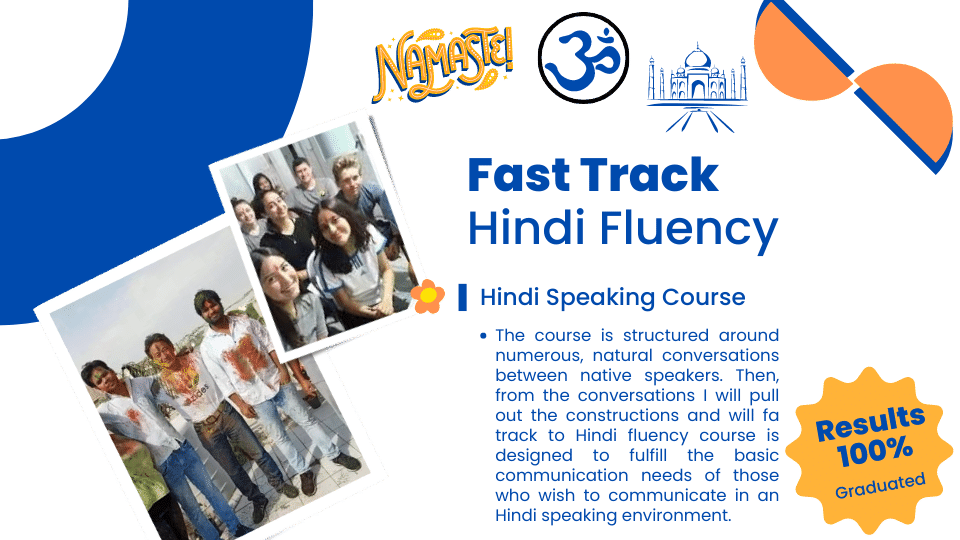 Fast Track to Hindi Fluency
✓ The goal of Fast Track to Hindi Fluency is to turn you into a fluent speaker of Hindi on the most common topics of conversation, including "Friends & Family", "Work & Travel" and "What You Did." In all.
✓ The course is structured around numerous, natural conversations between native speakers. Then, from the conversations I will pull out the constructions and will guide you to fluency with each phrase. The SLT (super-literal translation) will be given for each line, and you'll learn how to create your own "Construction Branches" which are a key to developing fluency.
✓ You should take this course if you have some experience in Hindi but aren't able to have fluent.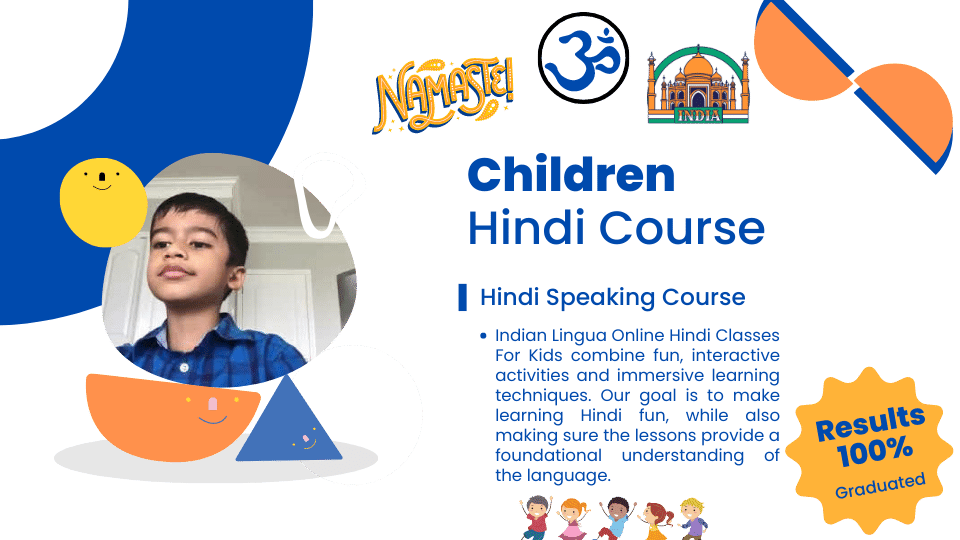 ✓ Specially designed classes are conducted by experienced teachers who have been working with kids for at least last 10 years 
✓ Kids become familiar with the basic Hindi structures and start to speak Hindi from very first day.
✓ Audio visual program is used to help kids to learn faster.
✓ Classes are tailored to individual needs.